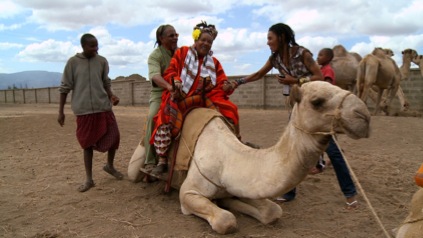 The new documentary film Mama C: Urban Warrior in the African Bush by Joanne Hershfield shares the incredible life of Charlotte Hill O'Neal, better known as Mama C, as she transforms herself before our eyes - young rebel, lover, activist, mother, creator, and poet of such energy the sun would be jealous!
Prof. Marla Jaksch, Women's & Gender Studies Department, The College of New Jersey


"Mama C: Urban Warrior in the African Bush" is essential viewing for anthropologists, historians, and sociologists as well as teachers in courses in Women's Studies, Africana Studies and Diaspora studies. It weaves the legacy of the 1960s, the impact of the Black Panther Party, the practice of Black internationalism and community development and self-expression through the arts together into a compelling story. By exploring the universal themes of artistic expression and authenticity; the politics of exile; navigating hybridity and the universal quest to define "home" through the lens of race, class, gender and culture this film is accessible to lay audiences as well.
Robyn C. Spencer, Asst Professor of History, Lehman College



"This delightful film uses visually beautiful scenes of Mt Meru and the colorful murals and sculptures immersing participants and visitors alike into the O'Neals' magical UAACC homestead... "Mama C: Urban Warrior in the African Bush" will inspire students in the arts, women studies, African and African American studies and people everywhere who are searching for ways to compose an authentic self.
Mary Howard, Professor of Sociology/Anthropology, Ohio Wesleyan University



"In a film of rich images and compelling vignettes, Joanne Hershfield captures the astonishing and inspiring life and wisdom of Charlotte O'Neal, aka Mama C...Her explorations of her own identity in context are an insightful reflection on being African American in an African setting.
A.T. Miller, Associate Vice Provost, Academic Diversity, Cornell University